Month: May 2011
Pensando en que el tiempo tendrá que mejorar en algún momento dedicamos esta entrada a destinos de playa que cuentan con importantes campos de golf en sus alrededores. Los primeros dos paquetes a resaltar son de hoteles en Canarias.
El Lopesan Costa Meloneras Resort, Spa Corallium & Casino tiene un nuevo paquete vigente hasta Octubre 2010. 3 noches en una habitación doble con desayuno y 2 green fees en Lopesan Meloneras Golf, desde 361€ por persona. También disponible para 4 y 7 noches.
Lopesan Costa Meloneras
Volvemos a colaborar con el Hotel Jardín Tropical en Costa Adeje, Tenerife. Es uno de los pocos hoteles que ofrecen en sus paquetes green fees en Abama de juego ilimitado en el día (incluyendo buggy con GPS, bolas de práctica ilimitadas y agua y fruta durante el recorrido). Además, el Hotel Jardín Tropical ofrece descuentos si el acompañante es no jugador. 3 noches en este hotel en una habitación doble con desayuno incluyendo un green fee en Abama y otro a elegir entre Golf del Sur, Amarilla Golf o Costa Adeje puede variar entre 428€ y 550€ para el jugador, y entre 194€ y 318€ para el acompañante no jugador, variando el precio en función de la temporada. Este paquete también se puede adaptar a estancia de 5 y 7 noches.
Y no, no nos olvidamos de los tan solicitados destinos del sur peninsular, como la costa de Huelva (Islantilla) y Cádiz (Sancti Petri).
En Islantilla, aumentamos nuestra oferta con el Iberostar Suites Hotel Islantilla, ideal para ir acompañado de la familia. Precios desde 98€ por persona para estancia de 2 noches con desayuno y un green fee en Islantilla.
También de la cadena Iberostar, volvemos a incorporar un hotel 4* en nuestro repertorio de hoteles en Sancti Petri, Chiclana. El Iberostar Andalucía Playa es una apuesta segura. Este paquete es muy flexible, disponible para el número de noches que quiera, y con los campos que prefiera, eliga entre Novo Sancti Petri, Las Lomas de Sancti Petri o La Estancia, de los mejores de la zona. Como ejemplo, 2 noches en habitación doble con desayuno y un green fee en Novo por persona puede salirle desde 276€ la estancia.
A qué esperas para reservar?
---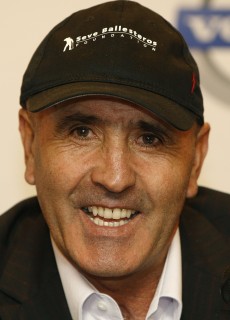 THE PLAYER who did more than any other to raise golf's profile in Spain has died at his Pedreña home after a valiant battle against the debilitating effects of a brain tumour.
In a press statement released by his family, it was announced that he had passed away at 2.10 am (Spanish time) "peacefully surrounded by his family".
The family said they were "very grateful for all the support and gestures of love that have been received since Seve was diagnosed with a brain tumour on 5 October 2008 at Madrid Hospital La Paz." The day before, they had announced that the 54-year-old's "neurological condition has suffered a severe deterioration".
Continue reading →
---
Tenemos diversas novedades en cuanto a nuevas ofertas. Hemos recuperado algunos paquetes que tuvieron éxito en su día e incluído otros nuevos que esperamos tengan la misma aceptación!
En el Hotel Golf Peralada (Girona) no te tendrás que desplazar para jugar y disfrutarás seguramente de uno de los hoteles más lujosos  y selectos del noreste español.
Hotel Peralada
En  Peralada Wine Spa & Golf podrás jugar y después relajarte en el circuito termal "El Celler". Por 320€ por persona, tendrás una habitación doble con desayuno durante 3 noches, 3 green fees en Peralada Golf, acceso al centro de fitness y al circuito termal, y una entrada al Casino de Peralada. Si tu intención es iniciarte o mejorar tu juego, este paquete también está disponible con 6 horas de clase además de los green fees desde 460€ por persona. Paquete también disponible para 7 noches
Hemos incluido en nuestra oferta el Hotel & Spa Mirador de Ulzama, en Navarra. Una nueva apuesta para jugar al golf en Navarra.  Al precio de 166€ por persona (190€ si es Viernes y Sábado), este hotel de ensueño estará encantado de recibirte con 2 noches en habitación doble con desyauno, 1 cena para 2 en el Restaurante El Mirador, uso del exclusivo Spa privado y un green fee por persona en el Club de Golf Ulzama. ¿Suena tentador, verdad? Lo es.
Para recibir más información, o para solicitar un presupuesto a medida, no dudes en contactar con nosotros!
---