Month: September 2012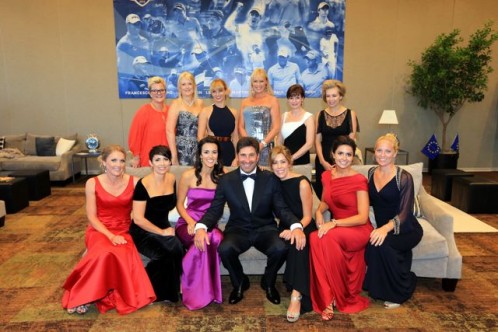 OzinSpain has been mildly disparaging about the Ryder Cup in the past (
Ryder Hype Runneth Over
), arguing that it might be über-significant for US and European players and fans but considerably less so for the overwhelming 90 per cent majority of the rest of the world: i.e. Africa, Asia, South America, Oceania and all the Americas apart from the US.
Bottom line: all the puff that the Ryder Cup is the third most mind-boggling sports event in the world (after the Olympics and soccer World Cup) is just as nonsensical as saying Herman Van Rompuy is the most powerful political leader in Europe. Or Mitt Romney is a bleeding heart liberal. Or Sergio García and Tiger Woods are really adorable chaps when you actually get to know them.
Little has changed for the 2012 version, even the impressive fact that nine out of the 10 top-ranked golfers in the world are teeing up at Medinah – actually the same as in 2010 in
Wales.
Nevertheless, ever-magnanimous, we are happy to note that the 2012 Cup showdown will unquestionably be another enthralling golf contest. Ample coverage can be found elsewhere but here is a selection of our favourite images over Cup week…
(Photos: Getty Images)  

Original post reproduced with permission from ozinspain.com

---
---
Australian Nikki Garrett made a scorching start to the 2012 Tenerife Open de España Femenino but it was compatriot Stacey Keating who eventually left Golf Las Américas with the main silverware.
Garrett, the Ladies European Tour's 2006 rookie of the year, opened with a bogey-free career-best eight-under 64 to take a three-shot lead. It came as no surprise that 28-year-old from Gosford (New South Wales) was quick out of the blocks in the premier event on the Spanish women's golf calendar. She won the 2007 Tenerife Ladies Open at Golf Del Sur and the Open de España Femenino at Country Club Mediterráneo in Castellón the following week. She also tied for second behind Becky Brewerton in a non-official Ladies European Tour matchplay event at Golf Las Américas last June.
/>
"I love Tenerife; I love Spain.  I had both my wins in Tenerife, Spain, so it feels a lot like home. I'm always very relaxed when I play in this part of the world."
The next day she scrambled to a 73 but still retained a one-stroke lead for the weekend. On the Saturday she slipped with a 74 and relinquished the lead to German Caroline Masson, as Keating – the number one ranked female Australian amateur in 2010 (Garrett achieved the same honour in 2005) – moved into second place one stroke back.
On the final day, Masson and Keating finished level on nine-under 279 before the Australian birdied the first extra hole for her first LET victory in just her second season on the tour.
Later, the 26-year-old from Ballarat (Victoria) said victory would make amends for the huge disappointment of the previous week when she was disqualified from the Ricoh Women's British Open for signing for an incorrect score when lying in a tie for 32nd place.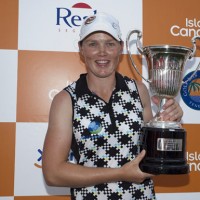 "I've probably had the worst week of my life and the best week of my life in two weeks. It was very disappointing last week but this makes up for it, I can tell you. It will be all forgotten, last week." She paid tribute to her caddie, Darren Peters (who is also her boyfriend), and the support of mentor Karrie Webb.
"After the disappointment of last week she's been great. Her and Karen Lunn, I have to mention her as well. They've been unbelievable. I don't like to say, the veterans out here, but they've been great and they really have helped me, and Kaz has been great out here this week."
Veteran Trish Johnson finished third, one stroke out of the play-off, and Garrett closed with a 70 to end up fourth; while Carlota Ciganda and Tania Elosegui were the leading Spanish players, in a four-way share of fifth place with Esther Choe and Lee-Anne Pace.

Original post reproduced with permission from ozinspain.com
[/expander_maker]
---
---
Gonzalo Fernández-Castaño was one of four high-ranked Spaniards hoping to make his Ryder Cup debut this year. In the end he, Rafael Cabrera-Bello, Álvaro Quíros and Pablo Larrazábal fell short in the qualification process – and failed to gain a wild-card selection from captain José María Olazábal to join the only Spaniard in the 2012 team, Sergio García (Miguel Ángel Jimñénez is also one of Chema's vice-captains).
However, some consolation came for the amiable 2005 European Tour rookie of the year when he won the Italian Open one week before the 12 European Ryder Cup players head to Illinois to defend the title won in Wales two years ago. It was the 31-year-old Madrid star's sixth victory on the Tour (he also won the 2007 Italian Open).
"Not making the Ryder Cup was disappointing," he said. "I had a victory, two second-placed finishes and one third, and it hasn't been good enough. It's tough.
"You have to play well in the big events, and that's what I didn't do this year unfortunately. I have talked to Olly about the Ryder Cup many, many times. I can laugh about it now but it hasn't been easy.
"I just needed to believe in myself and put the Ryder Cup out of my head, which I've done this week. I changed my schedule a little – I normally travel on a Tuesday but I arrived here on Wednesday, mainly because I wanted to see the kids start school."

Original post reproduced with permission from ozinspain.com

---
---
By Pedro Bolichero
Valderrama's pre-eminent role on the Spanish golfing scene could have come to an undignified end after the effectively 11th hour cancellation of the third edition of the Andalucía Masters, due to be held from 18 to 21 October.
The decision was expected after the Socialist Party was forced into coalition with the Izquierda Unida (United Left) party following regional elections in March, and one of its members (Rafael Rodríguez Bermúdez) became the new minister for tourism and commerce and implied there would be new budgetary priorities: i.e. not major investments focused on just one golf event. (It is understood the Junta's investment in the tournament totalled €3 million.)
/>
The dire financial situation in Andalucía, as in the rest of the country, would also have had a significant influence on the Junta de Andalucía's decision but none of that appeased the European Tour – peeved more than anything else about the late timing of the announcement.
In a statement, the tour noted, "The Junta de Andalucía confirmed this decision by letter, which they also announced by a press release on Monday 10 September. Despite discussions with the Royal Spanish Golf Federation, and a formal legal agreement with the Junta de Andalucía, the tournament, won in 2011 by Sergio García, will not take place."
Tour executive director George O'Grady added, "This is extremely disappointing news to receive, especially at such a late date. We have been long-term partners with the Junta for over 25 years. In that time we have been together with many other events: the Volvo Masters staged in Andalucía from 1988-2008, two American Express World Golf Championships, won by Tiger Woods in 1999 and Mike Weir in 2000, and the jewel in the crown, the 1997 Ryder Cup played at Club de Golf Valderrama. We have worked together to promote the region, and the Junta de Andalucía and the European Tour have enjoyed an exceptionally strong and committed long-term partnership.
"We feel the disappointment not only for our members and all committed to broadcasting and reporting this tournament and the region on a global scale, but also for the many visitors, especially from northern Europe, who coincide their vacations with the tournament.
"We will work with the Junta to rectify this situation both now and in the future".
With Valderrama's new membership and management committee seemingly less enthusiastic about hosting major events, the 2011 Andalucía Masters – when Sergio García became the first Spaniard to win a tour event at Valderrama – could be the club's swansong on the international stage, at least at the same level.

Original post reproduced with permission from ozinspain.com
[/expander_maker]
---
---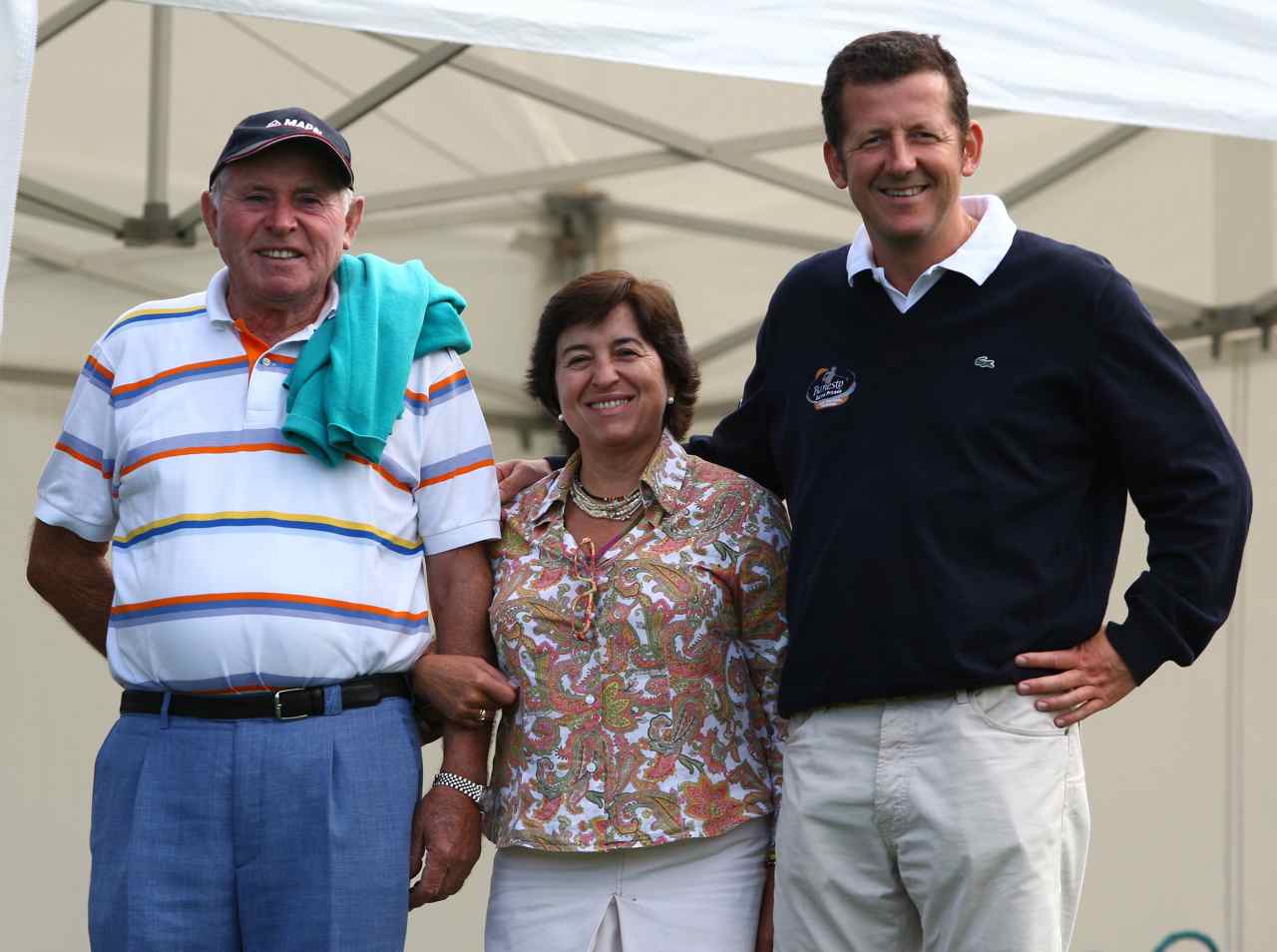 Severiano Ballesteros was the first Spanish golfer to shine in the international spotlight but it was his uncle Ramón Sota who helped pave the way when the game was effectively in its infancy in Spain.
Sota, who has died of pneumonia aged 74, and the older Miguel brothers, Ángel and Sebastian, were the first Spanish pros to tour the world, including ground-breaking appearances in the US Masters. Sota finished joint sixth in his second Masters appearance in 1965, 15 years before his famous nephew won his first green jacket. (Ángel Miguel had been the first Spaniard to tee up at Augusta, finishing 25th in 1959.)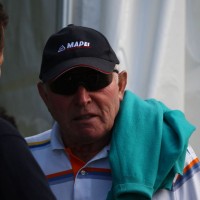 In 1963, Sota tied for seventh in the British Open at Royal Lytham & St. Annes and that same year he and Sebastian Miguel were runners-up in the World Cup in Paris, won by Jack Nicklaus and Arnold Palmer, Two years later Sota again helped Spain to second place, teamed with Ángel Miguel, in the World Cup played in Madrid.
Born on April 23, 1938, in Pedreña, the brother of Seve's mother, Carmen Sota, Ramón worked as a caddie at Real Golf de Pedreña before turning professional in 1956. He won the Spanish Professional Championship four times and several championships around the world including the Open de France in 1965 (with a closing round of 62), the Dutch Open in 1966 and 1971, the Open de Portugal in 1963, 1969 and 1970, the Italian Open in 1971 and his own national Open in 1963, as well as the 1965 Brazil Open. He retired at just 34, suffering from the
yips.
Mª Acacia López-Bachiller, long-time press supremo for the European Tour in Spain, interviewed Ramón Sota in Pedreña 10 years ago… following is a Spanish transcript of that fascinating insight into one of the greats of the game in Spain.
"Nací el 23 de abril de 1938 en Pedreña. Mi padre (abuelo de Seve Ballesteros) era labrador y mi madre hija de un hombre que tenía muchas tierrucas, que era el bisabuelo de Seve. Aquí en el campo de golf fueron mis hermanos Alfonso (aunque yo nunca le vi hacer de caddie por ser mayor que yo) y Pedro los que empezaron a trabajar. Aquellos primeros años fueron malos, esto estaba recién hecho y casi no había trabajo, venía muy poca gente a jugar.
Yo empecé haciendo de caddie en el Real Golf de Pedreña cuando tenía nueve años (1947), entonces había hambre y recuerdo muchas calamidades. Nosotros veníamos a ver si ganábamos algo pero era difícil. Los pequeños como yo casi no podíamos tirar de la bolsa, a pesar de que eran más pequeñas y no tan pesadas como las de ahora, y más bien recogíamos las bolas. Al terminar teníamos que lijar la cabeza de los palos, que eran de madera, y eso no nos gustaba; luego, había que dar un poco de aceite con la balleta.
Por 18 hoyos nos pagaban cinco pesetas, que daban para bastante. A mi madre le costaba 40 pesetas al mes la escuela donde yo iba, o sea que yo sabía que tenía que dar por lo menos ocho vueltas de 18 hoyos para poder pagarla.
Había tres categorías de caddies y yo fui aprendiendo y ascendiendo hasta la primera, que ya me daban 11 ó 12 pesetas, te hablo del año 50 más o menos. Jugábamos los campeonatos de caddies y no recuerdo si gané el primero, pero el segundo sí lo gané y a partir de ahí todos. Me gustaba mucho jugar, mucho.
Me hice caddie profesional a los 16 años y le llevaba la bolsa a un señor que me pagaba muy bien, 100 pesetas la vuelta, y además me dejaba jugar con él. Un día en el hoyo 13 de Pedreña él tenía punto y yo le tiré un segundo golpe fenomenal, la dejé dada y me dijo: "Ramonín, eres un perro, me has fastidiado, yo tenía punto y me has ganado. Eres un gran caddie pero demasiado buen jugador para mí". Ese día perdí a un gran cliente.
Con 18 años me hice profesional y en 1956 gané mi primer Campeonato de España aquí en Pedreña. A los 19 tuve un año malo y decían que yo era un cuento y nunca iba a hacer nada, pero yo sabía que no era así, veía claro mi camino y me entraba por un oído y me salía por otro lo que dijeran.
El primer torneo que jugué en Europa fue el Spalding en Moor Park, en Inglaterra, y quedé décimo. Mi hermano Lin trabajaba con Antonio Lavín, que era diplomático en Londres, y me animó a jugar allí. La segunda buena actuación fue en 1961 en el Open Británico en St.
Andrews, donde quedé 11º. Jugando en Moor Park, Lin vio cómo un espectador, que debía ser inglés, pisó mi bola que estaba bien colocada, y cómo otro, a quien le pareció una injusticia, la sacó con la punta del paraguas; Lin lo vio todo. Una vez entrenando en el Open Británico un cuervo se llevó la bola pensando que era un huevo, ¡que les gustan mucho!
Aquellos torneos eran preciosos, no había nada de todo lo que hay ahora: coches de cortesía, carpas, pancartas, televisiones…, nada de nada; por no haber no había ni restaurantes y ahora hay uno en cada esquina, nosotros cenábamos en el hotel. Yo iba a jugar con Lin los torneos del sur de Francia: Biarritz, Chantaco, La Nivelle… Nos montábamos en la "vespa", atábamos unos cuantos palos debajo del asiento de la moto y allá que nos íbamos; entonces no había otros medios y teníamos que ir haciendo paradas todo el tiempo. Un día que hubo una tormenta muy grande y llovía mucho pensé que la moto no podía pasar un gran charco con los dos encima, y vi un camión y me tiré, me agarré de la puerta y así pasé por el agua. Lin no pudo pasar y allí se quedó tirado con la "vespa", ¡menuda bronca me echó!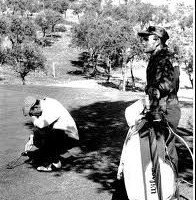 Sota with Sebastian Miguel during the 1963 World Cup in Paris
En el 63 gané el Open de España en El Prat, que entonces era el campo más difícil que conocíamos; las bolas se quedaban colgadas de los árboles pero yo gané holgadamente, fue la primera vez que cobré un cheque importante. En el 63 todavía no nos sobraba nada. Ese año quedamos segundos en la Copa del Mundo Sebastián Miguel y yo, nos ganaron Arnold Palmer y Jack Nicklaus.
La primera vez que monté en un avión fue ese mismo año, en el 63. Los hermanos Miguel y yo fuimos de Barcelona a Milán para jugar el Open de Italia, haciendo una parada en La Costa Azul. Yo iba muy elegante, llevaba un traje precioso de gabardina. Nunca antes había comido espaguetis y en lugar de darles la vuelta con la cuchara se me cayeron todos encima, los compañeros se reían de mí ¡y yo estropeé la chaqueta! Entonces yo no estaba curtido y me veía un poco perdido, tenía 19 años y no veía la forma de medirme con aquellos campeones, ellos eran todos grandes jugadores y estaban muy hechos.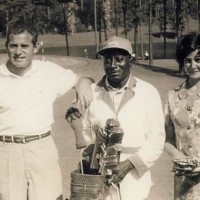 Sota with his wife and caddie at Augusta
En el 64 jugué mi primer Masters de Augusta y en el 65 quedé sexto; lo ganó Nicklaus. Era la primera vez que veía un campo como yo me había imaginado que tenían que ser, era duro y los greenes endemoniados, eso nunca lo han cambiado en Augusta. Los golpes tenían que caer en el sitio justo donde se pudiera patear, me di cuenta de que era así en todos los hoyos y me impresionó, ¡por algo es el Masters! Es un campo precioso, el más bonito de todos y muy difícil, con los lagos, los pinos y el colorido de esa época del año. Aunque el más difícil que he visto es Pebble Beach, jugué allí un Pro-Am, ¡qué maravilla!
En España tenemos muy buenos campos, no he tenido la suerte de jugar Valderrama y de ese no puedo hablar, pero sí de Las Brisas, Sotogrande, Club de Campo, El Saler… aunque no le hay tan bonito como Pedreña, no le encontré igual en todo el mundo, no hay otra finca como Pedreña. Sigue siendo muy bueno para aprender, aquí hay que jugar bien los 14 palos de la bolsa si quieres hacer resultado.
De los jugadores de mi época yo era muy amigo de Roberto de Vicenzo, era muy majo y me decía: "Sota, cuando Nicklaus juega normal, el resto jugamos para los segundos". Me recuerda a lo que hace ahora ése (Tiger) Woods, ¡todo lo hace bien! Domina al resto con una facilidad que no le aguantan sus 16 ó18 bajo par, ¡qué tío!
Recuerdo a Seve (Ballesteros) cuando era un niño, le hacía de caddie a un pediatra que también le dejaba jugar y de vez en cuando le daba entradas para ver el Racing; me decía: "Ramonín, éste chavalín, ya verás tú los dólares que va a ganar". Jugaba bárbaro. Un día estaba Seve tirando bolas y me dijo: "mírame un poco". Se concentraba y las tiraba muy rectas, y yo le dije "te falta una cosa, que vayan más lejos"; me miró con esa mirada que sólo vi en él y me contestó: "ya irán, ya irán". Alrededor del green era un malabarista, yo siempre pensé que iba a ser diferente a los demás pero… ¡quién iba a pensar que ganaría cinco Grandes, nadie podía calcular dónde llegó!"
Original post reproduced with permission from ozinspain.com
---
---