Golf Hotels
If you want to ensure good weather during your golf holiday, at any time of the year, book a trip to the Canary Isles and enjoy luxurious sunsets in any one of the 78 suites harmoniously integrated into the Golf Costa Adeje landscape, at: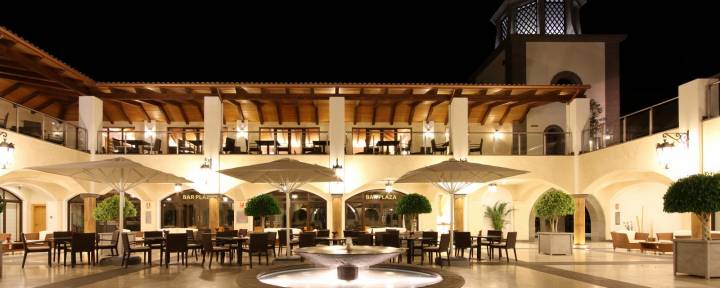 The distinctive Canarian architectural style of its villas, and their location in a former banana plantation, has transformed this complex into a small paradise of pathways and inviting nooks and crannies within the Golf Costa Adeje course. Surrounded by verdant vegetation and ravines, and with all the villas facing the sea, the resort is a stunning haven where you will only hear birdsong and flowing water.
---
---
Enjoy your stay at Almenara Golf Resort, one of Spain's most renowned golf resorts and an ideal destination for company or private groups.  The four star resort, designed as an Andalusian village, is located in the middle of one of Europe's most beautiful golf courses.
Check out our special promotions of only golf or hotel + golf packages.
---
---
---
As many of you might already have heard, changes in the Spanish legislation relating to VAT (IVA) will have a serious effect on golf, which will be re-categorised from the reduced rate (currently 8%) to the new general rate applying from 1 September (21%). In the case of hotels, the rate will rise from 8% to 10%.
After the increase was announced by the government, the industry waited too long to respond, hoping there would be an 11th hour change in the legislation, which ultimately did not eventuate, and this resulted in an excessive delay in the application of the new rates – barely days before their introduction. Our own booking system reflected the new prices as soon as they were confirmed.
Bookings confirmed before the increase
The main problem has arisen with bookings confirmed before the change in legislation. As far as we are concerned, golf courses should have accepted the agreed price or, alternatively, have offered a form of credit voucher to clients with the objective of encouraging full advance payment during August as a means of avoiding the IVA increase. Unfortunately, in more cases than we would like to report this has not been the case, and the list of courses that are insisting on charging 100% of future bookings in advance in August is increasing, in spite of our efforts to explain the drawbacks and potential damage caused to our tourist destination.
This means we have been required to contact – one by one – all clients with confirmed bookings (including a large list of clients with bookings for spring 2013) to advise them of the situation and, if they are planning to play at one of the courses that has decided to take this course of action, give them the opportunity of paying the full booking price over the next few days (i.e. up to 31 August) as the only way of avoiding the aforementioned increase, or alternatively cancelling their booking or changing it to another golf
course.
Courses that have respected the initial agreed rate
At this point we believe it is important to note and – on our own and our clients' behalf – thank those courses that have confirmed they will accept the booking rate previously agreed, and in some cases not even increase their prices at all, at least until the end of 2012, as a way of easing the problems caused by this tax increase. They include:
Alcaidesa
Aloha
Atalaya
Barcelona Golf
Bonmont
Cabopino
Chaparral
Doña Julia
El Paraíso
Finca Cortesín
Flamingos
Greenlife
La Duquesa
La Marquesa
La Quinta
Lauro Golf
Lumine
Marbella Club
Marbella Golf & Country
Miraflores
Montecastillo Golf
Montenmedio
Montenmedio golf
Parador de Málaga
PGA Catalunya
El Prat
Real Club de Golf de Sevilla
Real Club Sotogrande
Santa Clara Marbella
Santa Maria Golf
Son Antem
Valderrama
Vall D'Or
Valle Romano
Villaitana
This is a provisional list – taking into account any possible errors or omission – of those courses that have informed us of their intentions, and we will continue to update the list in the coming weeks. There are many commercial courses that are still sending out their new rates. We only include commercial courses with which we have contracts in force.
Even though we are sure our clients will understand that this whole matter is beyond our responsibility, we would nevertheless like to apologise for the resulting problems during a month when we should all be enjoying some well-deserved holidays.
If you want to offer an opinion on the matter, we would be delighted to hear your view and forward it on to the relevant golf courses – or publish it with this article.
---
---
Nestling in a paradisiacal setting surrounded by kilometres of natural sand dunes, Hotel Oliva Nova 4* also offers the exceptional attraction of an 18-hole golf course designed by the legendary Severiano Ballesteros.
One special new offer, available from 1 September, includes accommodation plus golf, not only at the hotel's own Oliva Nova course (from 11am) but also at other nearby courses including El Saler, La Sella, El Bosque and La Galiana.
Package of 7 nights in double room including breakfast + 5 green fees at any of the courses + 1 spa visit, from €527 per person.
Also available: packages for 5 or 3 nights.
---
---
Those with a discerning taste for the finer things in life will thoroughly enjoy the colonial-style charm of Hotel Las Madrigueras, a five-star establishment surrounded by the Las Américas course and with direct access to the first tee via the hotel parking area. In addition to playing golf at some of Tenerife's excellent courses, also worth a visit is the famous Teide Nature Park as well as the island's cobblestoned villages.
We are offering a package of 7 nights + 3 dinners + unlimited golf at the Las Américas course with buggy + 1 massage session, from €1,162 per person.
The hotel remains closed from 1 June to 30 September.
---
---
When it comes to location the Hotel La Caminera ticks all the right boxes. Situated in Ciudad Real, close to the high-speed AVE rail network and just two hours from Madrid, the five-star establishment has its own 18-hole golf course and also specialises in hunting tourism – offering exclusive services for enthusiasts. After playing a round of golf or out hunting, guests can relax in an 800 square metre spa, one of the largest in the province and – once fully reinvigorated and refreshed – visit Bodegas Real and wander among the vineyards.
Package of 1 night + 1 green fee, from €80 per person. Cheapest package from Sunday to Thursday.
---
---
We've just included an all inclusive package at Hotel Bonalba, 7 nights all inclusive + welcome pack + 5 green fees at Bonalba Golf (for the non golfer, we can include 5 massages) + 1 hour access to the spa from 785€ per person. Package also available for 4 nights.
---
---