Jose María Olazabal was officially appointed today in Abu Dhabi as the next European team Ryder Cup captain for 2012.
The Spaniard, who is trying to return to the competition once again, said he has accepted the captain position but would still try to gain a place as a player during this season if he's health problem allow him to.
David Love III is likely to be announced tomorrow as USA team captain.
---
We thought this was the perfect time to reproduce, courtesy of An Oz in Spain, the vision of an Australian about the Ryder Cup.
What the other 89 per cent think…
By PEDRO BOLICHERO of OzinSpain.com
IT'S MID-AUTUMN – an even year – and that means billions of golf fans around the universe are sitting in front of their TV screens, enthralled by the action in the "third biggest sporting event in the world". Yeah, sure.
There is no doubt the Ryder Cup is a fascinating sporting spectacle, providing spectators with exceptional golf from many of the world's finest players – gripping matches where the determination and passion to win is patent (just check out any old news reel of Severiano Ballesteros).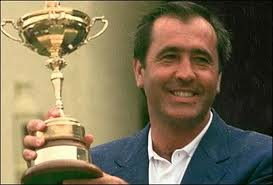 But for the organisers and jingoistic media commentators and press to continue harping on about the Cup only being surpassed by the Olympics and soccer World Cup in status is nonsense and an insult to the vast majority of the world's population who have no "nationalist" interest in the event.
In fact, golf fans outside Europe and the US would, in the main, be more inclined to rate the four majors as the premier golf events, ahead of the Ryder Cup and, certainly, the Presidents Cup, which pits the US against a Rest of the World combination (minus the Europeans) in every non-Ryder Cup year.
Continue reading →
---