Opinion
We have just returned from our latest visit to Hotel Nuevo Portil Golf in Cartaya. They always offer lovely little details, and on this occasion we were pleasantly surprised to receive a welcome gift, cava (sparkling wine) and fruit on our arrival in one of their attractive rooms – offering views over the golf course and sea.
Nuevo Portil is a four-star hotel decorated in a colonial style that has maintained its charm over the years and which still delights us. It is located in an extremely tranquil area, with the sea close by, pine forests at the rear and the first tee of the golf course just a few metres away.
There are many activities available in the area, with one of the main highlights being the Marismas del Río Piedras marshland, a protected natural area situated on both sides of the river of the same name. You can reach it by ferry during a pleasant outing from Portil town.
As for the cuisine, we liked everything we tried but warranting special mention are Huelva's white prawns (or rose shrimps), which can be found just about everywhere, coquinas (claims) and – of course – Jabugo ham from the nearby Huelva mountains.
The marina near the hotel offers a great variety of restaurants. A little further away, in Cartaya, Bodegón el Pato is well worth a visit, with its delicious ham, sumptuous seafood and superb selection of tapas.
As for golf, in addition to the hotel's own course, your getaway can include either of the two Rompido courses just 10 minutes away by car, La Monacilla (20 minutes) or Islantilla Golf (40 minutes).
---
As many of you might already have heard, changes in the Spanish legislation relating to VAT (IVA) will have a serious effect on golf, which will be re-categorised from the reduced rate (currently 8%) to the new general rate applying from 1 September (21%). In the case of hotels, the rate will rise from 8% to 10%.
After the increase was announced by the government, the industry waited too long to respond, hoping there would be an 11th hour change in the legislation, which ultimately did not eventuate, and this resulted in an excessive delay in the application of the new rates – barely days before their introduction. Our own booking system reflected the new prices as soon as they were confirmed.
Bookings confirmed before the increase
The main problem has arisen with bookings confirmed before the change in legislation. As far as we are concerned, golf courses should have accepted the agreed price or, alternatively, have offered a form of credit voucher to clients with the objective of encouraging full advance payment during August as a means of avoiding the IVA increase. Unfortunately, in more cases than we would like to report this has not been the case, and the list of courses that are insisting on charging 100% of future bookings in advance in August is increasing, in spite of our efforts to explain the drawbacks and potential damage caused to our tourist destination.
This means we have been required to contact – one by one – all clients with confirmed bookings (including a large list of clients with bookings for spring 2013) to advise them of the situation and, if they are planning to play at one of the courses that has decided to take this course of action, give them the opportunity of paying the full booking price over the next few days (i.e. up to 31 August) as the only way of avoiding the aforementioned increase, or alternatively cancelling their booking or changing it to another golf course.
Courses that have respected the initial agreed rate
At this point we believe it is important to note and – on our own and our clients' behalf – thank those courses that have confirmed they will accept the booking rate previously agreed, and in some cases not even increase their prices at all, at least until the end of 2012, as a way of easing the problems caused by this tax increase. They include:
Alcaidesa
Aloha
Atalaya
Barcelona Golf
Bonmont
Cabopino
Chaparral
Doña Julia
El Paraíso
Finca Cortesín
Flamingos
Greenlife
La Duquesa
La Marquesa
La Quinta
Lauro Golf
Lumine
Marbella Club
Marbella Golf & Country
Miraflores
Montecastillo Golf
Montenmedio
Montenmedio golf
Parador de Málaga
PGA Catalunya
El Prat
Real Club de Golf de Sevilla
Real Club Sotogrande
Santa Clara Marbella
Santa Maria Golf
Son Antem
Valderrama
Vall D'Or
Valle Romano
Villaitana
This is a provisional list – taking into account any possible errors or omission – of those courses that have informed us of their intentions, and we will continue to update the list in the coming weeks. There are many commercial courses that are still sending out their new rates. We only include commercial courses with which we have contracts in force.
Even though we are sure our clients will understand that this whole matter is beyond our responsibility, we would nevertheless like to apologise for the resulting problems during a month when we should all be enjoying some well-deserved holidays.
If you want to offer an opinion on the matter, we would be delighted to hear your view and forward it on to the relevant golf courses – or publish it with this article.
---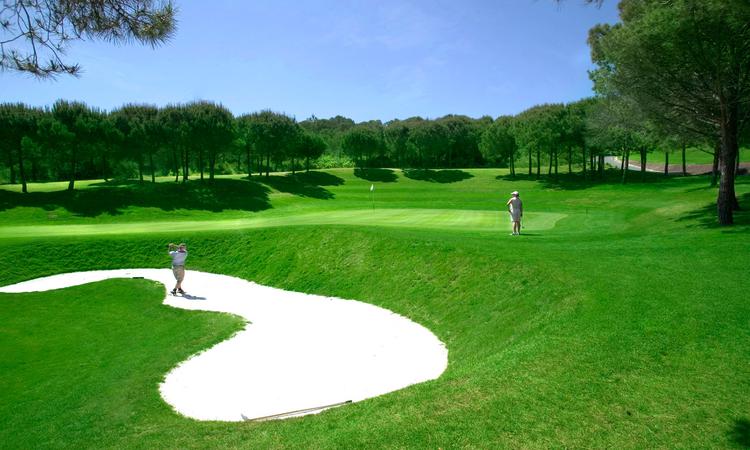 Abierto en 1998, Almenara, de 27 hoyos, consta de tres recorridos de nueve hoyos salidos de la mente del ex jugador de Ryder Cup y prestigioso diseñador de campos Dave Thomas. El campo incluye además unas amplias instalaciones de prácticas y de enseñanza. Un magnífico hotel con un soberbio Spa, tienda de golf y restaurante completan este espléndido complejo.
---